The concept of the belt bag is hardly new. After all, hip pouches and fanny packs have been around for a while. If you're like us, you probably have memories of recess teachers or parents wearing neon-colored storage around their waist, and whipping out band-aids and sunscreen from them at a moments notice.
While those bags worked great from a functional standpoint, their appearance ranged from "blah" to "in-your-face" to "downright hideous". But at Holly & Tanager, we're firm believers that fashion and function do not have to be mutually exclusive. So, when this hands-free phenomenon made a comeback earlier this year, we decided to create a leather belt bag from Chicago that was not only stylish but even more functional than the traditional fanny pack.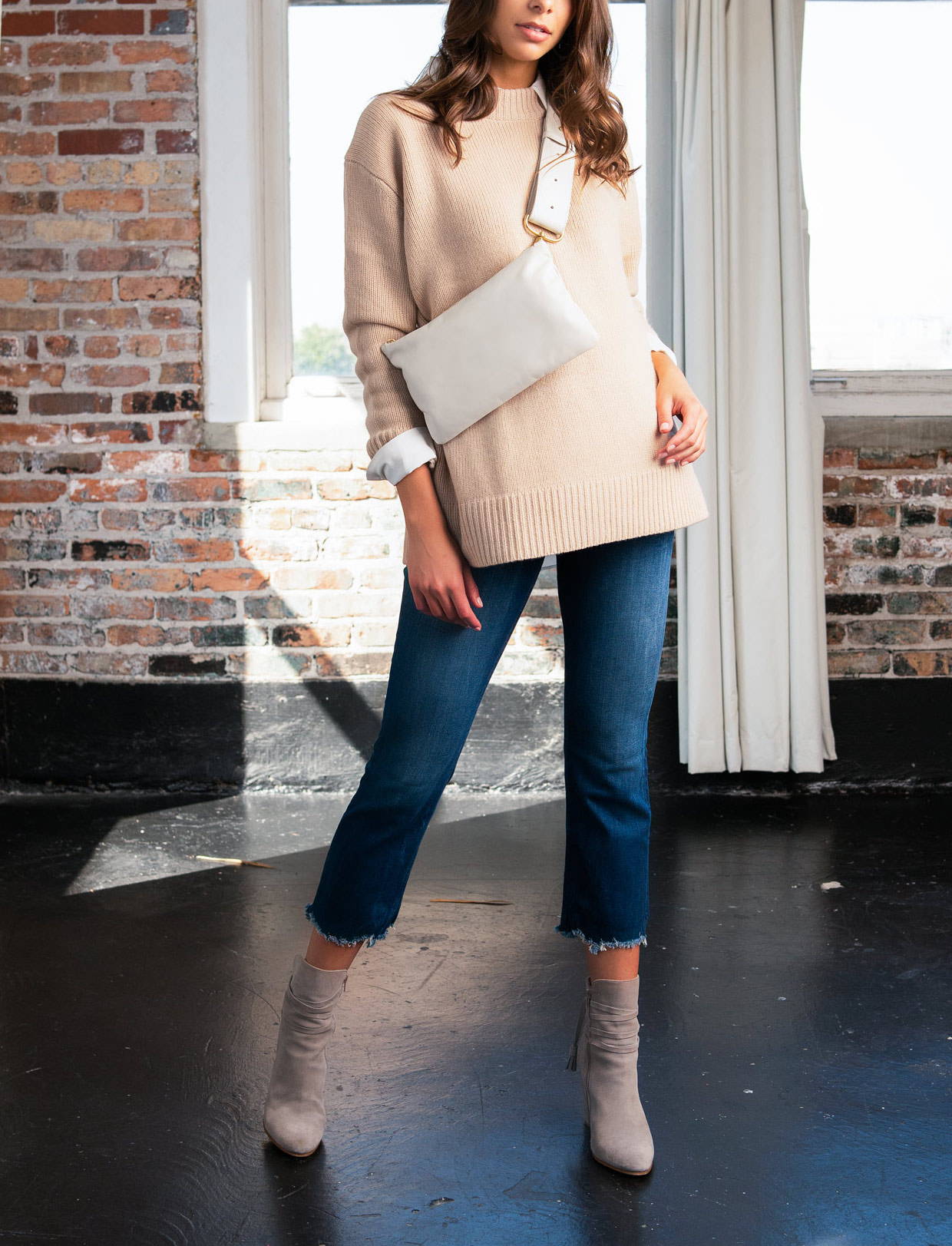 It's a Belt. It's a Clutch. It's a Lifestyle.
Of course, we love a tote or crossbody as much as anybody, especially when you're pocket-less, but it can be wonderful to go hands-free. You feel lighter and ready for anything...until you reach for your phone, a mint, or touch-up supplies. Suddenly, you wish you had your usual stash of essentials within arms reach again. Or worse, since you have nowhere to safely stow your wallet and phone, you set them down who-knows-where and, before you know it, they disappear. With a belt bag, you can enjoy your freedom without sacrificing those everyday essentials, or risk losing them.
Our belt bags from Chicago are made with supple Italian leather that comes in a range of colors, so you can match it perfectly to your outfit. This bag is so light and stylish, you may forget it's even there. And yet, they're surprisingly spacious on the inside, with plenty of room for your phone, wallet, keys, etc. The canvas-lined interior also houses a slip pocket and a zipper pocket, allowing you to safely stow away your smaller items.
Best of all: it converts to a clutch.
Simply remove the waistband, and you have a handheld clutch that can stand toe-to-toe with any other clutch you'll find on the market. All of the great features found in our belt bag from Chicago still apply when in clutch mode. Whether you're going out for the night or adventuring around during the day, the convertible belt bag from Holly & Tanager will see you through without compromise.
Enjoy your freedom and look good doing it. Buy our Convertible Leather Belt Bag today.